Which barcode do you need?
You've ordered your codes and assigned them to products. Now you want to make your codes scannable, so they can be scanned at the checkout, for example.
Which code do you need, what are good color combinations and how do you print it on the packaging?
EAN-13
Is the article (or trade item) being scanned at the cash register in the store? Use the EAN-13 symbol, this is the most commonly used barcode.
GS1-128
Are you using the symbol for logistics purposes? Translate the GS1 Shipping Container Code (SSCC) or another GS1 identification code into a GS1-128 symbol. This symbol is also used in healthcare.
ITF-14
Are you printing the code directly on a outer packaging (corrugated cardboard)? Then the ITF-14 symbol is the best choice.
EAN-8
Does your item have a small package on which the EAN-13 symbol doesn't fit? Then use the EAN-8 symbol.

GS1 DataMatrix - Medical supplies
For medical articles you choose the GS1 DataMatrix or GS1-128 barcode. These barcode have a variable length and variable data (such as serial number, expiration date) can be processed in it. These symbols are also used for UDI.
Color combinations
To scan the barcodes properly, you have to pay attention to the color combinations you use. Because a scanner uses red light, it perceives colors differently than with the human eye. So there must be enough contrast between the dark stripes and the light background.
In the image below, on the left you can see examples that are good to scan and examples on the right that can not be scanned well.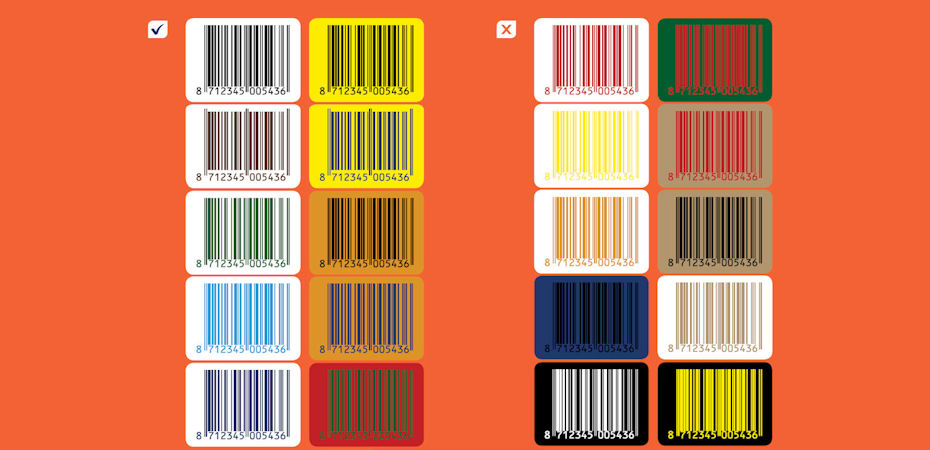 Place on the packaging
Preferably place the barcode in the lower right-hand corner of the back of the package. On curved surfaces, such as cans and bottles, position the barcode so that the bars run with the curve, preferably parallel to the direction of printing. Make sure that there is sufficient distance from corners and edges.
Printing
Before printing, contact the designer or printer of the packaging or label. They are aware of the (technical) details in this area.
Are you using a graphic printing method such as offset, gravure or flexography for the packaging? If so, include the symbol in the design of the packaging.
Are you using an inkjet, thermal or laser printer to print the symbol directly on the packaging or label? Please note the following points of interest:
For good quality, a good ink ribbon or proper cartridge and a 'clean' ink head are important. Check printers regularly.
The choice of enlargement factor depends on the number of dots per inch (dpi) given to the printer. The more dpi, the smaller the symbol can be printed.