Current release information
Food, Health & Beauty
Release 21 May, 2022
On 21 May, there was another release of GS1 Data Source for Food, Health & Beauty.
The key moments of this release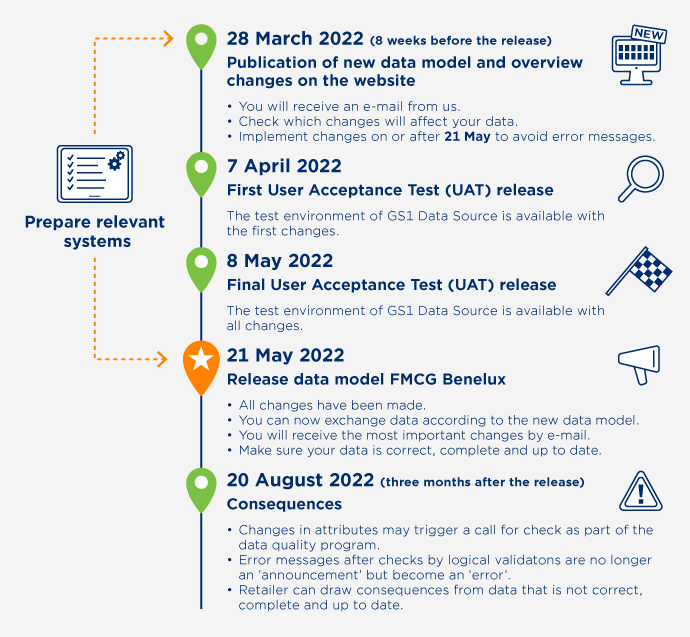 Outline of the changes
We have listed the most important changes for you:
New/modified attributes, codes or instructions:
8 new attributes have been added for exchanging e-commerce information of cleaning products and cleaning aids.
The instruction of the existing attribute 'Feature code' (featureCode)' has been changed, so that it can be used to exchange e-commerce information of cleaning products and cleaning aids.
A new attribute 'Nutritional program detail' (nutritionalProgramDetail) has been added for exchanging the Nutri-Score of variety packs.
New GPC codes have been added for e.g. maternity belts and maternity equipment. Various changes to GPC codes have also been implemented. 
The Dutch and English attribute names of a large number of attributes are adapted and brought in line with the GS1 Global Data Model. 
Entering the nutritional value 'energy' will only be allowed one way instead of two. We have also added a validation that checks whether the nutritional value has been entered correctly. 
Validations:
New and changed validations. Also, validations have been removed.
Changes to data quality programme:
Start of the check of attributes 'NutritionalProgramDetail' and 'Code Nutri-Score' (nutritionalScore).
Update of product image specifications
The document with specifications and guidelines for adding images to product data has been updated. Among other things, a number of possibilities in the naming convention have been added and things have been clarified and corrected.
Documentation
In the document below you will find a complete overview of the changes. All documentation that has been changed as a result of this release (e.g. attribute list, validation overview, explanation on attributes and the data quality criteria for DMSs) can be found at the usual locations.